Services
Commercial & Residential Cleaning
Give your home or work place a thorough clean. Anything you need doing just ask. Quality commercial and house cleaning with trustworthy reliable staff (criminal checks done). We offer fast and efficient building cleaning services for commercial customers.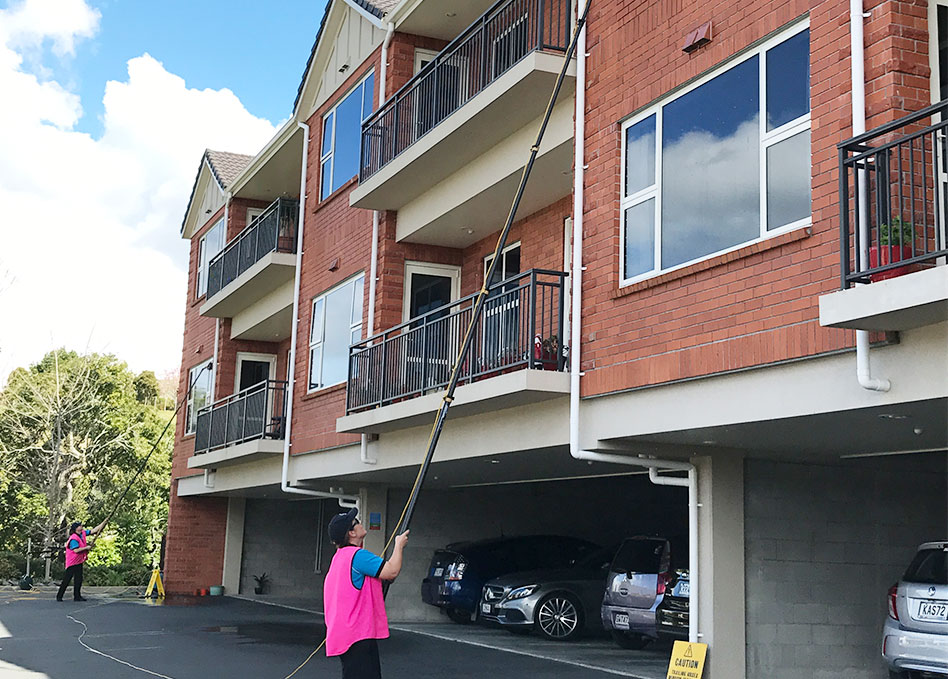 Our services include: Dusting and vacuuming of all surfaces, full sanitizing of kitchens and bathrooms, Floor cleaning, polishing, buffing and mopping, window and glass cleaning. We can also provide a strategy for an on-going, regular cleaning and maintenance program to keep your property looking its best day after day, year after year.
Steam Cleaning
We provide an industrial steam cleaning machine for many types of cleaning. Great for stubborn hard to clean areas such as grout on tiles, window tracks etc.
During construction clean-up we can also provide a strategy for an on-going, regular cleaning and maintenance program to keep your property looking its best day after day, year after year.
Building Exterior Cleaning
Give your home or building a spring clean with an experienced team, we'll have it looking like new. We recommend cleaning your home yearly which helps maintain your paintwork and surfaces. We also do power washing of decks, footpaths, fences and driveways.
Commercial Window Cleaning
Your business deserves professional window cleaning. Get a fresh new look at your surroundings through clean and clear windows. Let Pane in the Glass implement a professional window cleaning program for your facility. Remove filth and grime from windows and see the positive difference our window cleaning service can make.
We clean windows of all types including slides, tilts or fixed position windows. Standard windows, storefront glass, partitions, hard to reach windows... we clean them all! We also clean screens and awnings. We service buildings of all heights and follow strict safety guidelines, laws and regulations. Our business of professional window cleaners are fully insured, experienced, and specially trained in window cleaning.
Carpets
Professional carpet cleaning gives your office or facility the professional look it deserves. Dirt and soil are easily visible and wiped off on hard surfaces, but on carpets they can quickly work their way deep into the fibres. Dirt and soil combined with abrasive action from foot traffic will cause your carpets to deteriorate and need replacing prematurely. Pane in the Glass provides routine commercial carpet cleaning to help preserve the quality and beauty of your carpet for years to come.
LongReach™ Purified Water Feed Pole System for Cleaning Exterior Windows
Clean exterior windows more economically with our LongReach system. No ladders or access vehicles are need. And no chemicals are used either; just ultra-purified water. Our system is able to reach to 62ft with our carbon fibre poles.
You save money on your exterior building since ladders and lift platforms are not needed. An extra benefit is that windows stay clean longer.
Gutter Cleaning
We can clean all debris from your gutter using our high powered vacuum system and can clean the outsides too if needed. We can reach up to 2 stories from the ground. We have a specialised machine to do the job well, leaving you no mess.
Sanitising & Disinfecting Services
Our service includes sanitizing and disinfection of surfaces. Fogging equipment allows a very fine mist of antiviral/antibacterial disinfectant to lay over surfaces killing germs. Regular cleaning and disinfecting can greatly reduce or eliminate the virus altogether.